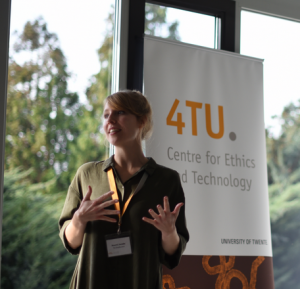 Als promovenda werk ik aan de Technische Universiteit Eindhoven aan een promotieonderzoek over 'technologies for health-related behavior change for vulnerable people: values in design'.
Ik ben geinteresseerd in ethische implicaties van nieuwe technologieën, value sensitive design en de capability approach.
Ik ben verbonden aan de afdelingen Philosophy & Ethics en Human-Technology Interaction aan de TU/e.
Meer weten over mijn onderzoek? Kijk dan hier.
Of lees mijn artikel 'Why value sensitive design needs ethical commitments' (Journal of Ethics and Information Technology, 2018) dat ik schreef met Alina Huldtgren.